"Stop looking for my husband!" – Angela Nwosu confronts white neighbour who constantly comes to see her husband
Media personality, Angela Nwosu, recently confronted her white neighbour for always coming to her house to look for her husband, Soundmind.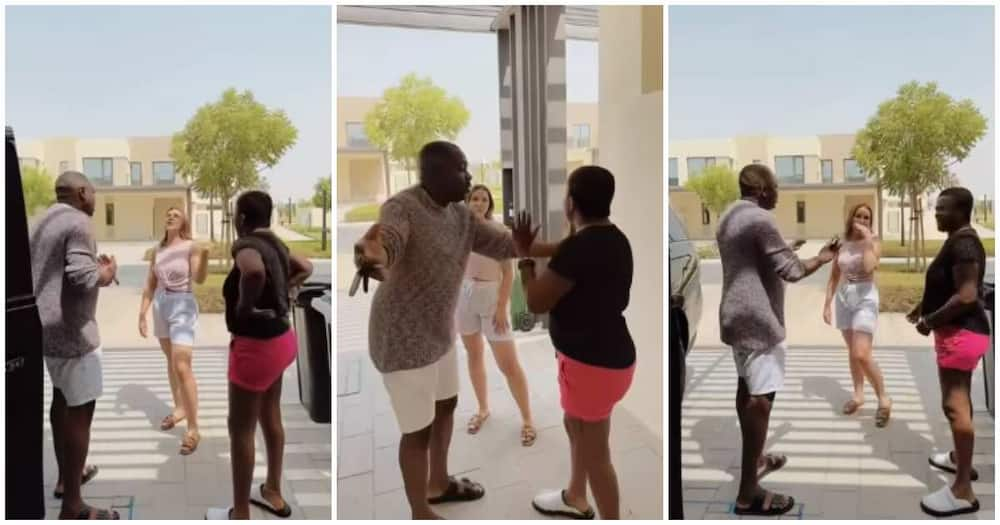 A video making rounds online shows the moment she challenged the white woman after she came again to see her husband upon his return from an outing.
In the trending clip, the self-styled sex therapist boldly confronted the woman and questioned why she constantly comes to look for her husband.
According to Angela, whenever the white woman comes and her husband is not at home, she would turn back instead of speaking to her instead.
Responding to the accusation, the white woman accused Angela of being rude and disrespectful to her, hence her hesitation to talk to her.
She also stated that her husband should be the one telling her to stop checking up on him, not her (Angela).
In response to this statement, Soundmind took his wife's side and told the white woman to respect his wife's decision and stop coming to look for him.
When the white woman realized that Angela someone was recording the confrontation, she tried to stop them from recording, stating that she did not like it.
However, Angela explained that she choose to film the incident incase things took a different turn, so she would have video evidence.