Nigerian lady posts her 5 ex-boyfriends and what she misses about them
A Nigerian lady has stirred up social media by sharing photos of her ex-boyfriends and expressing what she misses about them.
In a recently posted video, the lady added captions to each of the 5 images attached to the video.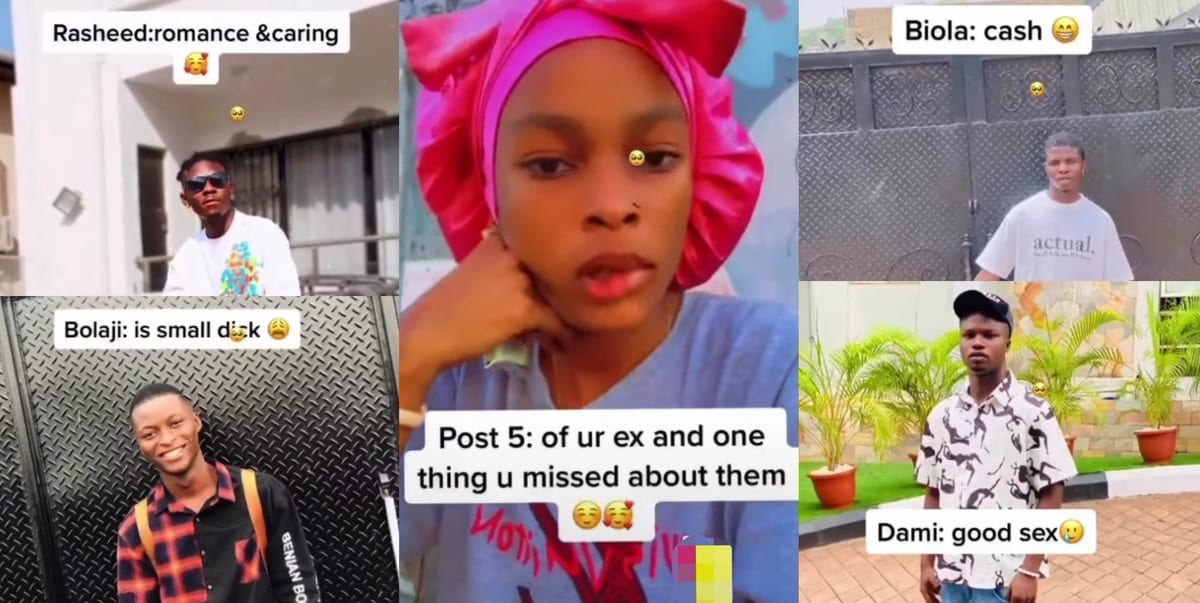 These captions revealed the reasons she misses her ex-boyfriends, each for different reasons.
She mentioned missing one for 'being caring and romantic', another for providing support in form of 'cash'.
One of the captions mentioned missing her ex-boyfriend because of his "small dick," another because of his lips, and yet another because of his "good sex."
These captions detailing the reasons for missing her 5 ex-boyfriends have ignited discussions on social media, with many individuals sharing their views in the comments section.
Here are some reactions from the comments:
meetemmanueljacob: "This is obviously a cry for help and not cruise. There is no way someone in her right mind will be posting something like this. I hope she gets help soon before things will get out of hand."
_d.oris: "You go just wake up one morning, see yourself for social media."
emilysmile.09: "It seems these days alot of people don't have sense and no home training, like what's this."
cree._ai: "The black gate and filters say a lot! If you know you know."
adaikwerre: "These are people's sons. If a man did this about a woman e for turn yam pepper scatter."
teslim____: "5 ex… you never talk one night stands your body count go dey reach 100+. Na person go marry this one oloriburuku Omo MASHANFANi."
WATCH THE VIDEO BELOW: