Lady reveals why Abuja landlords reject single male tenants
A Nigerian businesswoman, Kate Bassey, has taken to social media to reveal that single men are allegedly suffering house renting discrimination in Abuja.
Ms. Bassey revealed this in a Facebook post after failing to find her brother a house on Tuesday, April 11, 2023.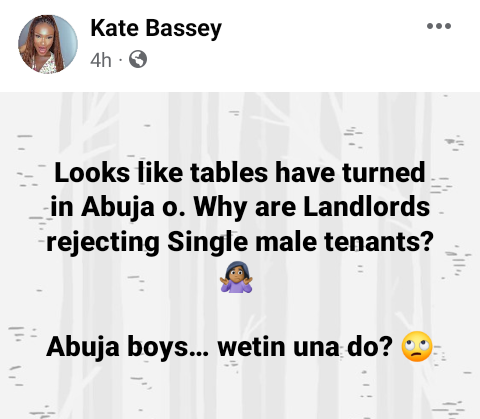 She claimed that some of the landlords she dealt with had negative things to say about Abuja single men.
Sharing an update after speaking to the landlord, Ms.Bassey revealed they had concerns about side chicks, sugar mommas paying the rent, and unmarried men having affairs with their wives.
She wrote;
"I don hear Landlords side of the story o. Omooooo true true, Abuja boys no try. Wetin dem dey do no good. Them say na women dey pay una rent and una go still dey knack landlord wife and even him side chics.

I told one of the Landlords that my brother just got a job here and doesn't even know anywhere in Abuja. That's why I'm the one looking for the house for him. That I take full responsibility for him.

The man said "After 2 months, even you won't know your brother again". I weak. It's not even a joke. I have been to 4 different decent Estates today. Seen lots of beautiful apartments and the only barrier is when I say "Oh I'm not the one that will live here. It's my Brother". Boooommmmm , I'll hear "Oh sorry, the Landlord doesn't want a single male tenant"

I spoke to a number of the Landlords over the phone and even met 2 physically as they live on the property. They refuse to shift grounds. Wow!!! Just wow!!!! When we single women jokingly talk about how shabby the young men in this city behave, y'all think it's just shades. Una bad character don dey bite innocent guys now. My feet and body hurts."