Kaduna Train Attack: Negotiate with us or we kill captives – Terrorists to FG
Terrorists suspected to be members of the Ansaru faction of Boko Haram have released a video of the just-released Managing Director of the Bank of Agriculture,(BOA) Alhaji Alwan Hassan, on Wednesday night.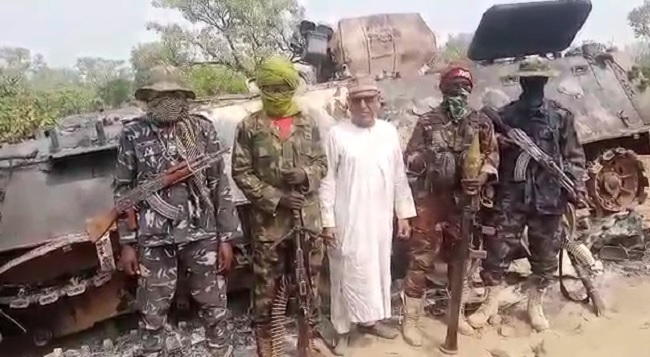 The video was believed to have been recorded minutes before the MD was set free by the terrorists.
The leader of the group was heard calling on the Federal Government to negotiate with them, even though he did not specifically say what they want from the Federal Government.
But findings by the Nigerian Tribune revealed that many leaders of the group are currently under the custody of the government.
Thus, the released video is a way of expressing their disenchantment over the continued detention of their leaders, as well as telling the world they are behind last week's train attack on Abuja /Kaduna route.
The viral video shows the MD of the BOA in a white kaftan was flanked by four members of the group who were all wearing camouflage and turbans holding AK-47 rifles.
One of the members of the group who spoke in Hausa started with praises of Allah and began in Hausa, "We are the ones who abducted these people at the train. "
He said further, "We decided to release this man because of the honour of the month of Ramadan and he is old. "
The speaker who appeared to be the leader of the group remarked, that the MD of the Bank of Agriculture has been pleading since we abducted him with us to release him.
"The government should know that the train attack is just a little of what we can do. We would let this captive about to be released to speak if he has something to say."
The MD, who also spoke in Hausa said, "I was allowed to go because of my age. But I have left several abductees behind. The FG need to look for the leaders of this group to negotiate the release of the other captives. The situation is bad and those who are still in captivity need immediate assistance."
The leader of the group then added, "We don't need your money. The government have to come and speak with us. You know what we need or else those with us will be we turn into an abattoir. Killing them is nothing to us."