CEPACS Hold 50th Anniversary, To Promote Africa Church Growth Through Digital Communication
In celebrating Pan African Committee for Social Communications (CEPACS) 50th year anniversary, Catholic Bishops across Africa will gather to promote Synodal church in Africa through digital communications.
Speaking at the World press conference held yesterday in Lagos, the president of CEPACS and Bishop of Oyo Diocese, Most Rev. Emmanuel Badejo said that the forthcoming 50th anniversary of the body would help promote the synodal Church in Africa through social Communications.
He noted that the CEPACS assembly is an opportunity for evaluation and stock-taking on the work of CEPACS over these 50 years, saying it will hopefully reinvigorate CEPACS, propose new communications strategies for evangelization and update Church structures and policies for the future.
According to the Bishop, it will also align the work of CEPACS with the new synodal process which calls for a Church that listens to all its members and components and gives everybody, especially those at the margins an opportunity to express themselves and participate more in the life of the Church.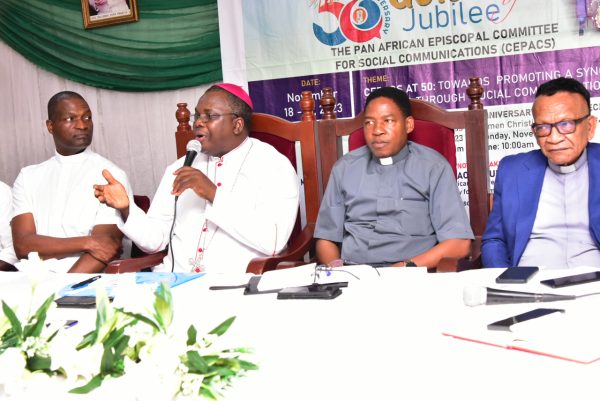 "In Synodality, everybody is carried along and no one is deliberately left behind in the scheme of things. Such a noble vision obviously has a lot to offer modern society as well. Communication is an indispensable part of synodality and so, the vision for founding CEPACS, needs to be optimised and brought into the present and future digital age."
CEPACS was founded in the year 1973 by Symposium of Episcopal Conferences of Africa and Madagascar (SECAM) in Ibadan. It is geared towards the management and operations of the communications apostolate in Africa.
The event will be holding in Lagos from November 18 to 21, 2023 with the theme, 'CEPACS at 50: Towards promoting a Synodal Church in Africa through Social Communications'.
It is also African region's arm of the Catholic Church that handles all matters concerning the activities in the realm of media in Africa and Madagascar – press, radio, television, video, traditional, social media, and a host of other new forms of media.
The 50th anniversary with an assembly of communication experts and Catholic Bishops across Africa will have Dr. Paolo Ruffini, Prefect for the Dicastery for Communications, Vatican as Keynote Speaker in Lagos, Nigeria.
Communication coordinator, Association of Member Episcopal Conference of Eastern Africa, Association Member of Episcopal conference in East Africa (AMECEA), Fr. Andrew Kaufa stated that "the theme of the conference is important in Africa. Communication is becoming part of the merger in Africa and the world. It is through communication we can build solidarity in Africa."
He added that "communication has changed, Artificial Intelligence is the big issues, there is a digital migration and advancement in Information and Communication Technologies (ICT), so how the church responds to these, I believe it will bear more growth."