Bimbo Ademoye recounts unforgettable thing Toyin Abraham did for her
Famous Nollywood actress, Bimbo Ademoye celebrates the birthday of her senior colleague, Toyin Abraham while recounting an unforgettable gesture for her.
Toyin Abraham who marked her 43rd birthday some days ago was celebrated by Bimbo who emphasized how she once stood tall for her in one of her struggling times.
According to the content creator, she once lost a video of hers from her YouTube page and had to reupload it only to get little to no impressions.
However, Toyin made sure she urged her followers to support Bimbo Ademoye on the new upload so as to brighten her day.
Narrating the experience, she emphasized how touching the gesture was and how it still lingers in her heart to date.
"I remember when I lost my video on YouTube, you put a call through to ensure I was ok, took it upon yourself to post on your page to plead with people to watch the new upload. That act still lingers in my heart. I'm forever grateful .Happy birthday ma," she wrote.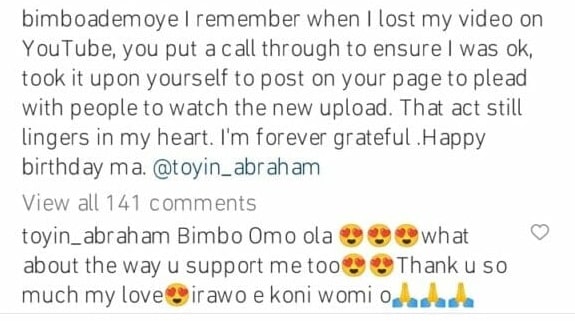 Toyin replied to the caption with, "Bimbo omo ola; what about the way u support me too. Thank you so much my love. Irawo e koni womi o."